Orthodontics with Transparent Plates
---
Clear Aligners, also known as brace-free orthodontics, are high-tech treatments that have been widely used recently. In orthodontic treatment, the teeth are straightened by applying force on the teeth. These forces can be applied with metal or ceramic brackets as well as through Clear Aligners.
The use of Clear Aligners in orthodontic treatment offers an aesthetic and comfortable solution. It is a treatment option that is almost impossible to be noticed visually, and there are no restrictions on meals. Our clinic use Invisalign system as clear aligners.
To start the treatment, in the first session, digital impressions of your teeth are recorded with an intraoral scanner. With the introoral scan, it is possible to immediately see a simulation of final results on the screen. If treatment is approved, a detailed treatment simulation is provided for patient consent and corrections are made if necessary. If approved, all clear aligners that will be used in the treatment are produced and shipped to our clinic within two weeks.
The treatment process begins and aligners are handed over to patients. All aligners can be handed to the patients coming from abroad. The biggest advantages of the virtually invisible clear aligners are that they are not visible there are no problems such as debonding or breaking of wires occur, and faster results are obtained with less clinical sessions (2-3 sessions are needed overall, so patients from abroad need maximum 3 visits to our clinic).
The Clear Aligners should be used for at least 20 hours a day, excluding meals. The treatment proceeds with the change of aligners every 7-10 days. Patients can change aligners by themselves without clinical intervention.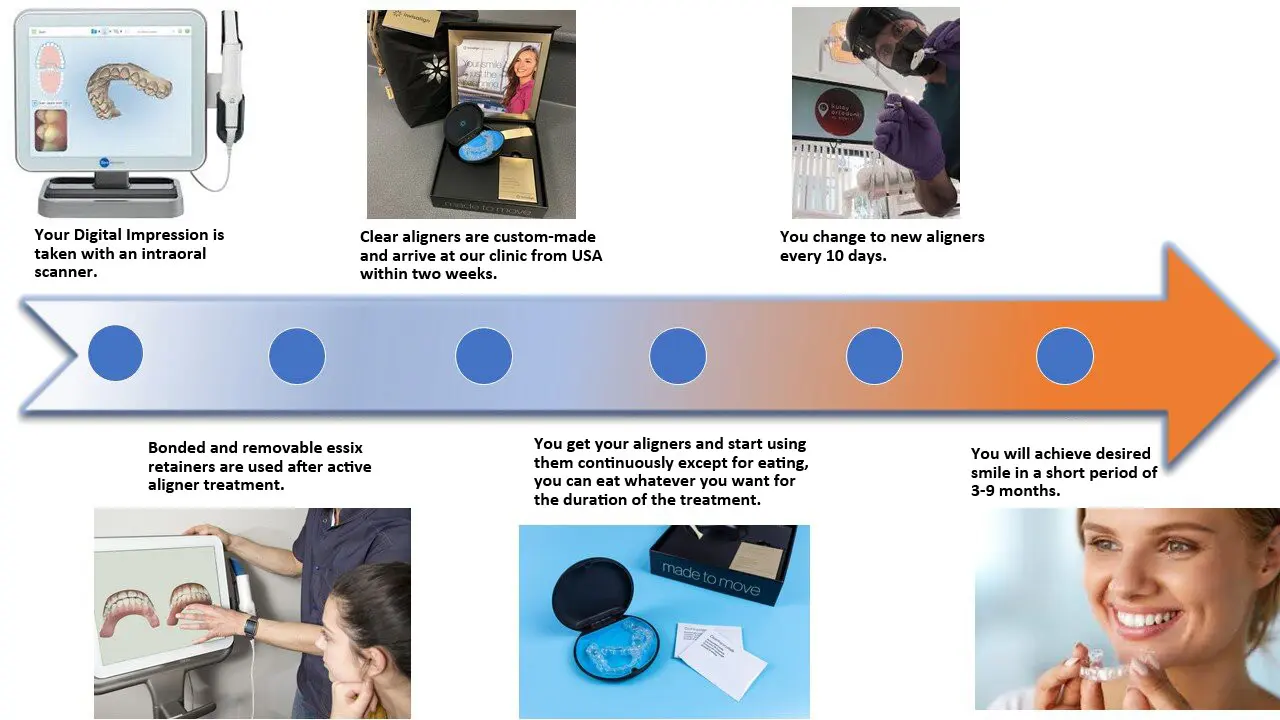 Frequently Asked Questions About Clear Aligner Treatment or Invisalign
---
What is Invisalign Treatment?
Invisalign treatment is a type of orthodontic treatment in which teeth can be corrected using specially designed clear dental aligners.
How many aligners are needed for my teeth to straighten?
Depending on the amount of defect in the teeth, the number of aligners required varies, but the number of aligners used generally varies between 14-30.
I lost the aligner I used, do i need new aligners?
It it is possible to order lost aligners, but most of the time skipping to next aligner will work.
Will the aligners affect my pronunciation?
Clear aligners are very thin and are placed only on the teeth, and since the tongue and palate are not affected by speech, the pronunciation is not impaired.
Do you have pain in your teeth when using aligners?
Invisalign aligners are highly flexible and gradually apply gentle forces to the teeth. Therefore, you will not experience pain in your clear aligner treatment.
Can I eat with Clear aligners?
It is recommended to drink water only with clear aligners. Any type of food can be consumed after aligners are taken off. If meals are consumed with aligners fitted in mouth, aligners will be most likely deformed or cracked.
How are clear aligners cleaned?
It is recommended to brush the Invisalign braces with toothpaste or liquid soap every day and rinse with lukewarm water. Heavy chemicals, disinfectants and warm water are not recommended as they may harm the aligners.
Do I have to use clear aligners at night?
Using clear aligners minimum 20 hours per day is an absolute requirement for clinical success.
Can Invisalign treatment be applied at any age?
Invisalign treatment can be applied at any age starting from the age of 8.
Will my teeth return to their original state after clear aligner treatment?
There is a possibility of relapse after every orthodontic treatment. Retention protocols are applied to prevent relapse. A small wire called retainer are bonded on the lingual surface of teeth, they are covered with tooth colored Dental fillings which make them less visible and sticky. In addition, removable essix retainers are recommended night time.
How long does retention take?
Retention should last for half the duration of active therapy. Follow-ups annualy are recommended.
After my clear aligner treatment, I did not like my teeth or my teeth relapsed, am i covered?
The Invisalign comprehensive package guarantees you treatment with unlimited orthodontics for 5 years from the start of treatment. If you do not like the appearance your teeth or if the teeth relapsed, new aligners can be ordered as warranty in 5 years.
Clear aligners or braces?
It is possible to achieve the same result with two different types of treatment, and the methods for achieving the result differ slightly. While braces are visible, they also need care. Eating hard foods gently is necessary. Also, brushing takes longer than usual to clean between the brackets. Clear aligners should be removed during meals and brushing. When the aligners are removed, patients can eat whatever they want and brush their teeth comfortably. In addition, its aligners are not visible and it is hard to distinguish aligners in mouth. For this reason, patients who have an active social life prefer İnvisalign treatment over braces.
Is Clear aligner treatment reliable, will I get definitive results?
It is known that more than 6 million cases have been treated worldwide, especially in the Invisalign system. The success of the Invisalign system has been scientifically and practically proven worldwide.
What is the price of Clear aligner treatment?
The price of a clear orthodontic treatment is determined by the difficulty of the case. The cost of basic problems will be a much appropriate cost. The clear aligner technology is very new compared to Dental braces. Invisalign treatment costs more than braces. The reason for this is that the aligners produced for the patient exclusively with high tech process. It is a huge advantage to get aesthetic results in a much shorter time, while having invisible aligners. For these reasons, the first choice for adult patients, especially those without financial difficulties, is clear aligner treatment.