Teeth Whitening
---
Clear, bright and white teeth are essential to a beautiful smile. The desire to have white teeth is increasing day by day. Teeth whitening products are introduced to the market in a variety of ways. However, no product can replace a whitening performed under the supervision of a dentist in terms of whitening effectiveness, speed and safety.Teeth lose their perfect color for various reasons. Tooth decay, black fillings, or antibiotics can cause internal tooth discoloration. External discoloration occurs due to the accumulation of colored particles in the enamel. These colored compounds can penetrate the enamel; smoking or frequent consumption of dyed foods such as tea, coffee and cola may be the cause. With the whitening process, these colored particles break down and the color of the teeth is lightened.
Before the whitening process, tartar and stains on the teeth should be cleaned and the teeth checked for any cracks. Dental fillings on the front surface of the teeth could need modifications in terms of color after the whitening process. Blue LED light is used to speed up the whitening process. Your teeth are visibly whiter at the end of a 15-30 minute session. Sessions are repeated as needed.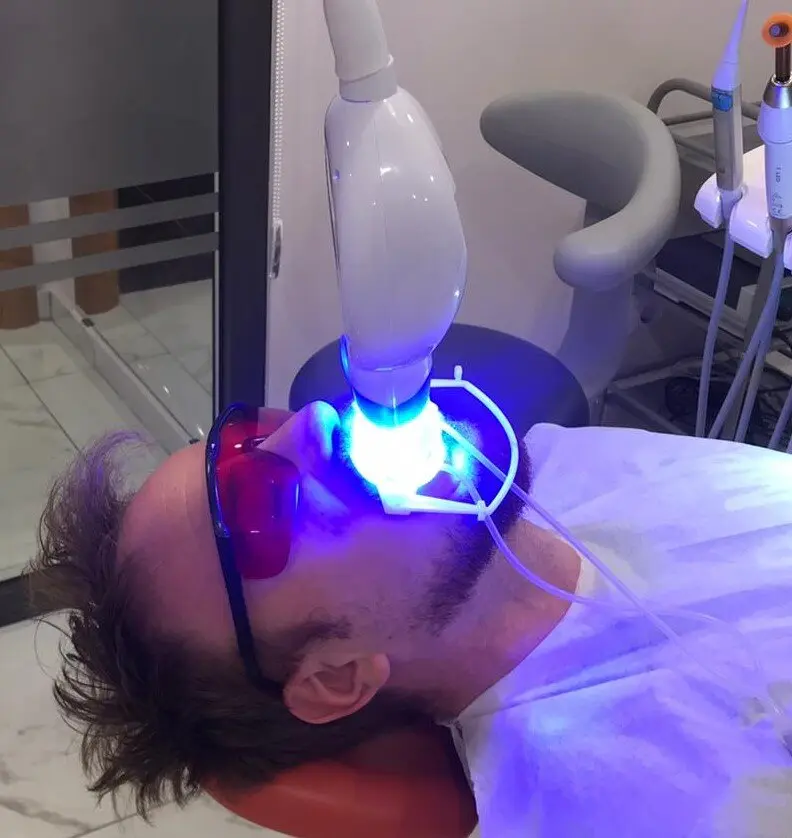 After the whitening process, slight sensitivity in the teeth is considered normal and this sensitivity is temporary. In order to preserve the obtained whiteness, contact of colored foods with the teeth should be avoided for a while. Whitening paste and home whitening can be used to reinforce the result obtained.
Results obtained with 1 session of whitening process